infocard

name: julie
age: 15
sex: female.
location: NY
political party: social anarchist
sexual preference: either/or.
favorite bands: GBH, banner of hope, vice squad, sex pistols, the knox, cockney rejects, misfits, the unseen, cheap sex, the havoc, LOC/CV, the lunachicks, the devotchkas,
hobbies:
anything else:
post a 100x100 picture of yourself. i will make the infopage illustrated with everyone's pics.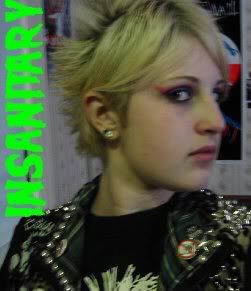 i get a larger 1 cos i'm a mod ;x



"8th grade anarchist" COPYRIGHT 2005 JULIE AND DEADLOCK SOCIETY

[verse 1]
perfect hair, studded belts
don't forget the shitty band shirt
stay inside, your style could melt
worship punk rawk idols sid and kurt
after all, they invented it, right?
FIGHT THE SYSTEM! day and night!
whore for the industry
what the hell will make you see?!

[chorus]
oi oi oi and anarchy! you've got it memorized
think for yourself for once
you've got to come alive
stop putting on this front, you know
it's really not the truth.
mass-marketed punks, although
you're just a confused youth.

[verse 2]
mom and dad will buy your stuff
roll their eyes and say
it's just a stage, now that's enough
i wonder who he'll be today?
you're an anarchist cos you're unique!
but now you just can't take the heat.
you clutch this mask, never let go.
still talk about more than you'll ever even know.

[chorus x2]